The "Sectoral e-Business Watch" (SeBW) studies the impact of ICT and e-business on enterprises, industries and the economy in general. It highlights barriers for a wider or faster uptake of ICT and identifies public policy challenges arising from these developments. In this way, the SeBW supports the work of the European Commission's Enterprise and Industry Directorate General in the field of ICT (> policy context).
In 2009, the overarching themes of the studies are ICT & energy, ICT skills and ICT policy. In line with the prevailing e-Business Watch approach, two sectoral and three cross-sectoral studies are being carried out.
The "Sectoral e-Business Watch" is based on a service contract between DG Enterprise and Industry and empirica GmbH, involving the following main service providers: DIW Berlin, GOPA-Cartermill, IDC EMEA, and Ipsos GmbH (> project team).
Sectoral e-Business Watch Conference 2009:
Presentations now available
The Sectoral e-Business Watch Conference 2009 took place in Brussels on 29 October.
The Conference focused on the potential of ICT to support sustainability objectives, such as reducing greenhouse gas emissions and increasing the energy efficiency in production processes. Based on this assessment, Implications for an ICT-related industrial policy were discussed.
The conference presentations as well as a summary of the conference and additional information about the programme and the speakers are now available in pdf format at the conference website.
Announcements
07/07/09
New studies: interim report summaries available online. The Sectoral e-Business Watch has published the summaries of several new study interim reports. The final reports are expected for November 2009. See "Forthcoming studies".
Chart of the month - December 2009
Companies in the GCC & chemical industry using e-Commerce: % of companies receiving orders from costumers online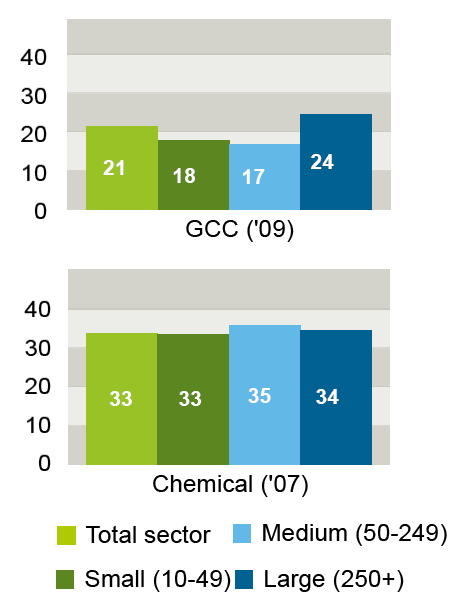 Source: Sectoral e-Business Watch Survey 2009.
Read: Percentage of companies in the glass, ceramic & cement / chemical industry receiving orders from costumers online. (N = 676(GCC)/911(Chemical))
Data for sector totals are weighted by employment (i.e. firms representing x% of sector employment), data for size-bands in % of companies.
More information: Sectoral e-Business Watch